Donald Trump responded on Tuesday to bombshell revelations that General Mark Milley, the former president's and current Chairman of the Joint Chiefs of Staff, had made phone calls to a Chinese general both prior to the November election and after the January 6 incident.
According to Conservative Brief, two days after January 6, Gen. Milley took secret action to talk to military leaders and told them not to take military strikes or nuclear orders from Trump.
Milley was "was certain that Trump had gone into a serious mental decline in the aftermath of the election, with Trump now all but manic, screaming at officials and constructing his own alternate reality about endless election conspiracies," Bob Woodward and Washington Post reporter Robert Costa said in the book "Peril."
In the book, it is alleged that Milley made two secret phone calls, both to his Chinese counterpart, Gen. Li Zuocheng of the People's Liberation Army. The book alleges that the phone calls took place prior to the 2020 presidential election on Oct. 30, 2020, and two days after the Jan. 6 Capitol riot, on Jan. 8, 2021.
In a Tuesday interview on Newsmax, the 45th President of the United States responded to the news.
"So, first of all, if it is actually true, which is hard to believe, that he would have called China and done these things, and was willing to advise them of an attack, or in advance of an attack, that's treason," Donald Trump said.
"I have had so many calls today saying, 'that's treason,'" Trump continued.
"It's totally ridiculous, I never thought of it, you were there, you knew what was happening in the White House, you had plenty of friends," Trump said to former White House press secretary Sean Spicer, "You never heard the word 'China' mentioned in a thing like this," he added, referring to a potential military strike.
"You heard a lot of anger about China on trade, and we made a great trade deal," he continued, "You heard a lot of anger on China with the China virus, but for him to say, for him to say that I would even think about attacking China, I think he is trying to just get out of his incompetent withdrawal out of Afghanistan."
"The worst, the dumbest thing that anybody's seen, probably the most embarrassing thing that's ever happened to our country," Trump added.
Watch:
"Where they killed our soldiers, we left with embarrassment on our face, we left Americans behind, and we left $85 billion worth of the best equipment in the world, that I bought, because I was the one who rebuilt our military and then Biden gave it away."
"For him to say that I was going to attack China is the most ridiculous thing I've ever heard and everybody knows it," he said.
Trump also released a fiery statement on the matter: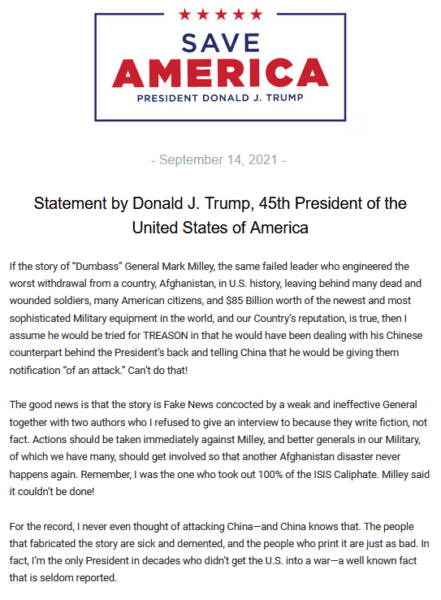 Scroll down to leave a comment and share your thoughts.