The 18-year-old accused of allegedly killing 10 people and wounding three others in the Buffalo, New York grocery store shooting on May 14 that officials say is racially motivated wore a hazmat suit to class when his high school returned from its in-person learning pause due to COVID-19, yearbook pictures obtained by Fox News Digital show.
Officials said that the 18-year-old, later identified as Payton Gendron, a White male, chose the Tops Friendly Market on Jefferson Avenue in Buffalo as the location for his alleged attack because it was located in a predominantly Black neighborhood, as he allegedly stated in his manifesto that the area's demographic breakdown has the "highest black percentage that is close enough to where I live."
When Gendron and his classmates returned to Susquehanna Valley High School in Conklin, New York, after the school paused in-person learning during a portion of the COVID-19 pandemic, those around home noticed odd behavior and rebellious signs.
One of Gendron's classmates, Nathan Twitchell, told The New York Times that he wore a hazmat suit to class following the resumption of in-person learning during the COVID-19 pandemic.
"He wore the entire suit: boots, gloves, everything," Twitchell said.
Fox News Digital obtained a picture of Gendron in a hazmat suit while sitting in class.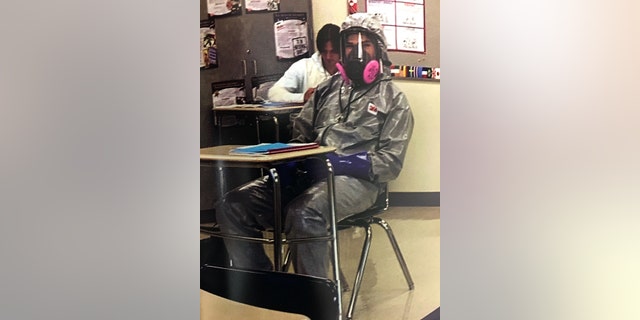 Officials said during a press conference on Saturday that they believe the shooting was racially motivated and pointed to a roughly 180-page manifesto that the shooter wrote and posted before allegedly shooting a total of 13 people.
Gendron wrote in the manifesto that he fears White people are in the process of being replaced by people of other races.
Eleven of the victims in the attack were Black and two of them were White, according to authorities.
This is an excerpt from Fox News.
Scroll down to leave a comment and share your thoughts.