A pro-LBGTQ eighth grade public school teacher in Oklahoma — who said "f***" parents who "don't love and accept you for who you are" and "I'm your parents now" in a now-deleted TikTok video — has resigned.
"Tyler Wrynn is no longer in the classroom, and the Board of Education accepted his resignation on April 11 at its regular monthly meeting," Owasso Public Schools told TheBlaze in a statement Tuesday. "As this is a personnel issue, we are unable to provide further comment."
Here's the clip, which was not on Wrynn's TikTok page early Tuesday, although other videos with pro-LBGTQ themes were still active on it. Wrynn's entire TikTok page — @inkh34rt — disappeared soon after TheBlaze reached out to him and the school district. Wrynn didn't immediately respond Tuesday to TheBlaze's email requesting comment.
Watch:
It's not clear if the above video was a reason for Wrynn's departure, but Libs of Tik Tok — which posted the clip first — said the video in question and "others containing questionable content were brought to the principal's attention."
Wrynn was an English teacher at the district's 8th Grade Center: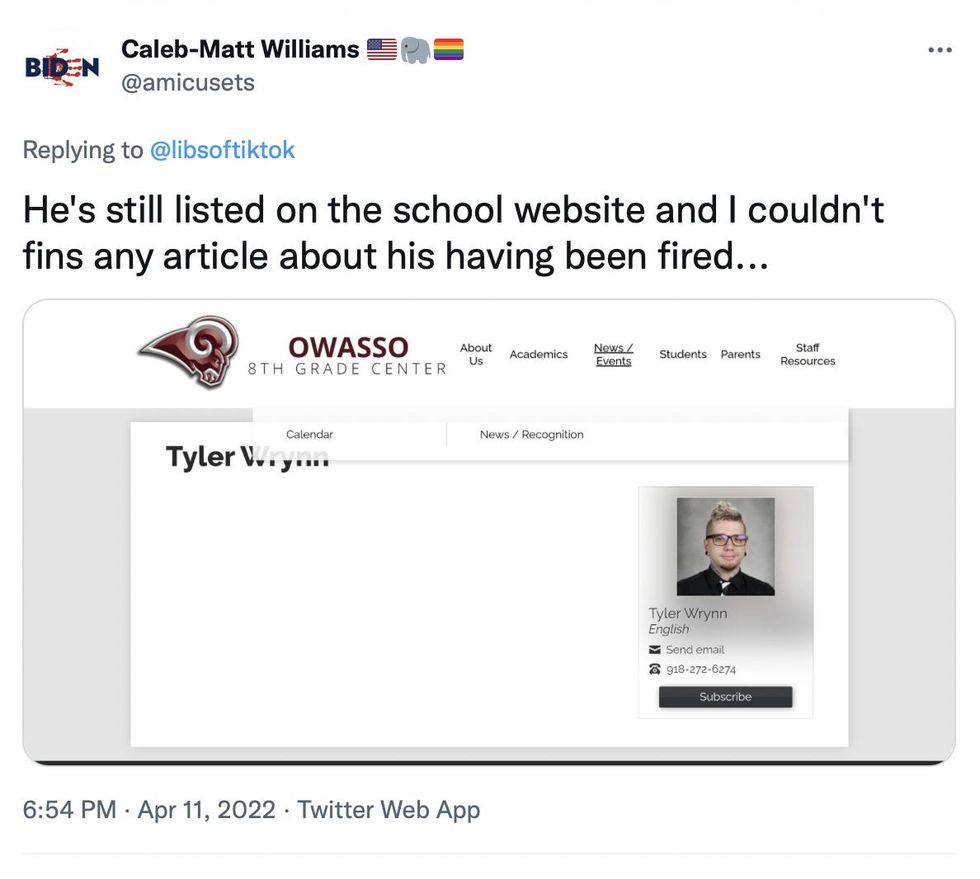 Wrynn's name and photo were listed on the school's website early Tuesday but were no longer listed after TheBlaze reached out to the district for comment.
In addition, Libs of Tik Tok posted a screenshot of a message Wrynn purportedly posted in a private Facebook group detailing the situation:
This is an excerpt from TheBlaze.
Scroll down to leave a comment and share your thoughts.