The Democratic National Committee is hitting the road in its latest campaign to tout President Biden's $1.9 trillion coronavirus relief plan and call out Republicans who voted against it.
The DNC will unveil billboards Monday in 20 states to thank Biden and Democratic senators for approving $1,400 stimulus checks. The monthlong ad campaign, targeted for high-traffic areas near airports, will also remind motorists that their GOP senators opposed the payments to 127 million Americans.
In Orlando, Florida, for example, the new billboard on State Road 528 along the route to the airport shames GOP Sens. Rick Scott and Marco Rubio.
"Help is here," the billboard reads. "Thanks to President Biden. No Thanks to Sen. Scott [and] Sen. Rubio."
All GOP lawmakers in the House and Senate voted against the $1.9 trillion package, arguing it was too bloated and filled with liberal priorities that were not coronavirus-related.
Rubio panned the legislation as "a Trojan horse to begin a radical restructuring of the nation," while Scott said Biden's stimulus package was "massive, wasteful and untargeted."
"Folks across the country and senators traveling home won't be able to miss this message: Help is here because of President Biden and Democratic leaders and despite the Republicans who unanimously opposed relief," DNC Chairman Jaime Harrison said in a statement first obtained by Fox News.
Harrison added: "Democrats passed the American Rescue Plan — which includes direct payments of up to $1,400 per person and resources to help manufacture and distribute vaccines because they knew help couldn't wait — and we aren't slowing down anytime soon."
The billboards are going up in both red and blue states: Los Angeles; Denver; Cleveland; Milwaukee; Portland; Minneapolis; Houston; Orlando; Atlanta; Indianapolis; Las Vegas; Philadelphia; Seattle; Nashville; Kenner, Louisiana; Romulus, Michigan; Springfield, Missouri; Manchester, New Hampshire; Newark, Greensboro, North Carolina; and Wilkes-Barre, Pennsylvania; the DNC first revealed to Fox News.
In Wisconsin, for example, the billboard on Interstate 94, just north of Rawson Avenue, thanks Democratic Sen. Tammy Baldwin but calls out GOP Sen. Ron Johnson for voting against the aid package.
The DNC already launched a digital advertising blitz on several local newspaper websites, released a "Help is Here" ad on cable and in battleground states, and even paid for a bright video billboard in Times Square thanking Biden and Democrats for passing the aid.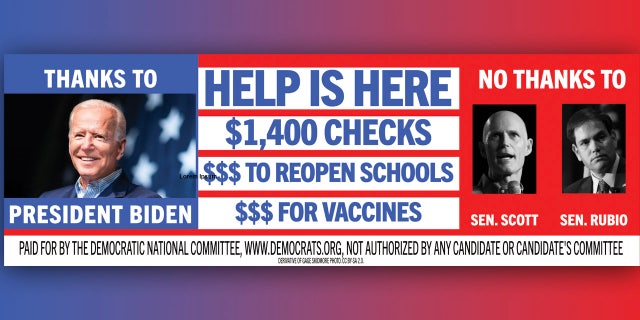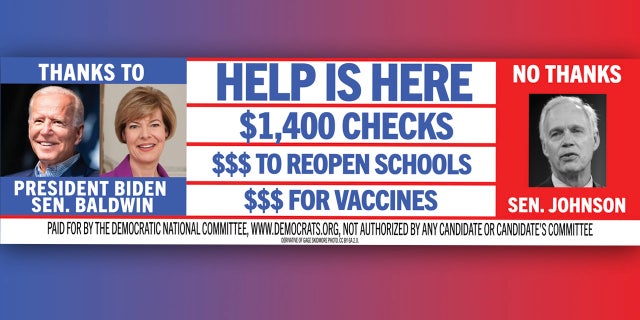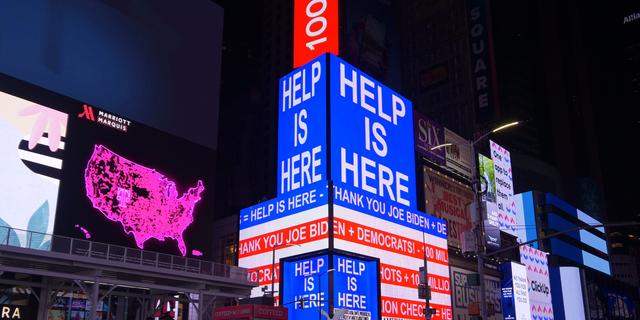 Scroll down to leave a comment and share your thoughts.
Scroll down to leave a comment and share your thoughts.